Biogeochemistry Workshop
Join us on 23-24 February for two days dedicated to microsensors in biogeochemistry applications.

All lectures will be held online via Teams. Check out the program and sign up via the form below.
What you can look forward to:
Our inhouse expert, Tage Dalsgaard, Ph.D. Microbial Ecology and Biogeochemistry, has more than 25 years' research experience in the field of biogeochemistry.
Tage will guide you through the live lectures and will be ready to answer any questions. In the lectures, Tage will introduce you to examples of microsensor applications within research and applied sciences, and he will also present the theory and handling of our products.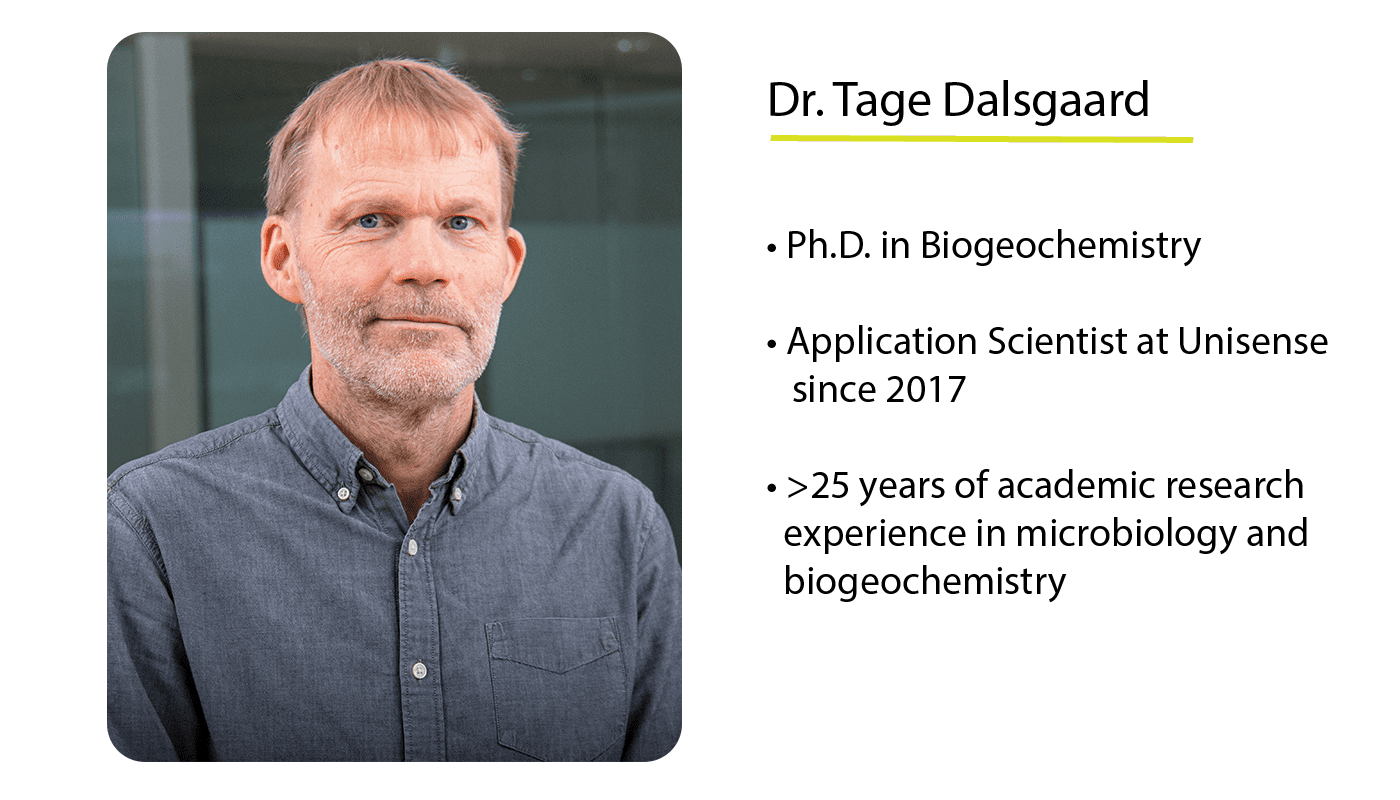 Who should participate?
We invite both new and experienced users to join the workshop. If you are planning microscale measurements in the field, you will not want to miss this workshop.
Workshop Program


You can find the program for the Biogeochemistry Workshop below. All times are listed in CET (Central European Time).

Click the lecture title for a brief overview of what the lecture will cover.
All lectures will be held online via Teams.
Wednesday 23 February
2.30-3.30 PM: Introduction to Microsensors
In this lecture, Tage will give you a basic understanding of the design, construction, and application of microsensors. You will learn about the sensor types, calibrations, and tip sizes, and we will discuss the differences between optical sensors, amperometric sensors, and potentiometric microelectrodes.
3.45-4.45 PM: Lab-based Studies
You can look forward to learning about different types of experimental microprofiling set-ups. Tage will explain the setups in relation to different applications, such as microbial mats and photosynthesis. We will also talk about the combination of measurements in the lab and in the field.
Thursday 24 February
2.30-3.30 PM: Field Studies
We will look at what to consider and different options for in situ microsensor measurements. We will also venture into shallow waters, and even the deep sea. Tage will combine this presentation with application examples, and he will share some of his own research experience.
3.45-4.30 PM: Demonstration of Field MicroProfiling Setup
In this online demonstration, Tage will show you how the Field MicroProfiling System and the Profiling software work, how you calibrate a microensor, and  he will perform a live microprofile measurement of oxygen in a sediment core.
O2 profiles
H2S profiles
pH profiles
4.45-5.30 PM: Demonstration of Activity Calculation
In the final lecture, Tage will give you a live demonstration of the SensorTrace Profiling software. He will present you with the theory and assumptions behind the software and guide you through the possibilities and settings.
Quick Tip Selection Tip
With tip sizes between 3-5 µm and 800 µm, it is important to consider your application before you choose the tip size. You can get a quick tip selection tip from Tage in this video.