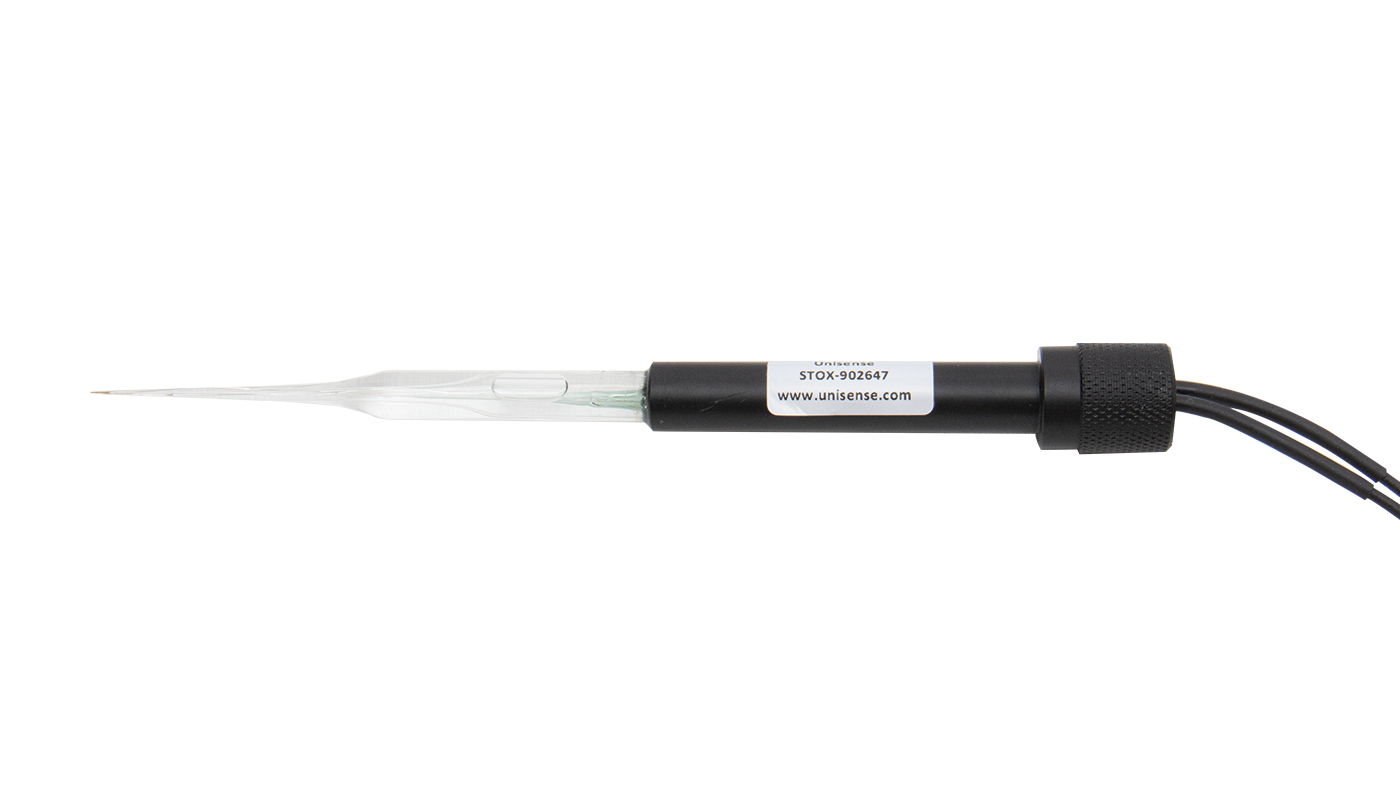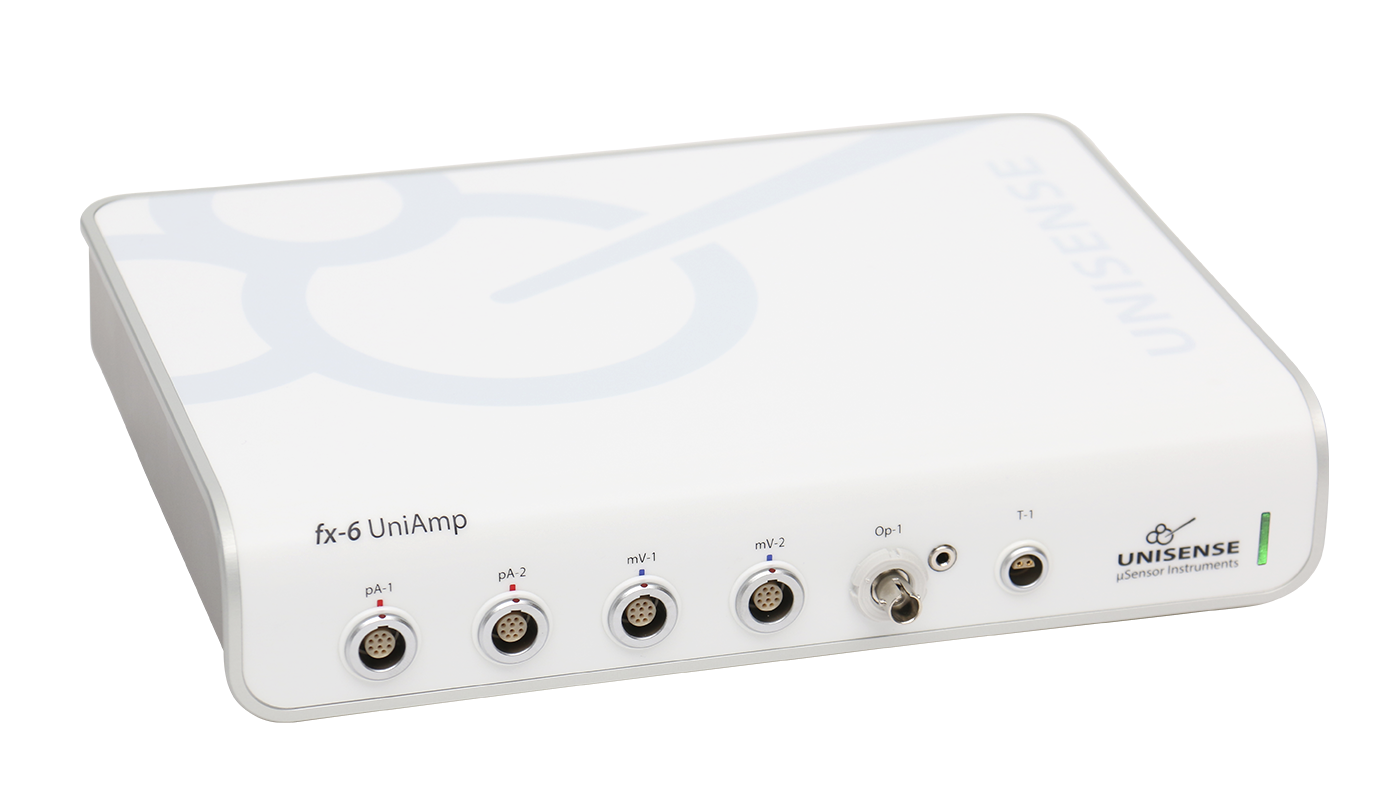 Custom-made
Detection limit: <10 nM
90-110 µm glass sensor
STOX Microsensor
Measure ultra low oxygen concentrations (<10nM)
The STOX microsensor is a specialized oxygen sensor that allows you to measure ultra low oxygen concentrations in the lab or in situ. The sensor has e.g. been used to demonstrate that oxygen concentration in the oxygen minimum zone of Peru contains less than 2 nM oxygen. Read more...
Read More
Technical Data
Ordering Information & Sizes
Manuals & Videos
STOX Microsensor
Oxygen sensor with an added cathode
The STOX microsensor differs from the standard oxygen microsensor by having two sensing cathodes. The primary cathode corresponds to the cathode found in the standard oxygen sensor. The secondary cathode prevents oxygen from entering the sensor when this cathode is polarized.
This setup allows for frequent zero calibration in situ and thus enables the sensor to measure extremely low oxygen concentrations.
Specially designed microsensors
The STOX microsensor is part of a small portfolio of specialized sensors for niche applications or designed to meet hard-to-obtain requirements. This means that the microsensor requires special training, attention and often patience to use. However, when used with all precautions in mind, the sensor can serve your special needs.
The microsensor is custom-made for each sale and not part of our standard sensor portfolio. Therefore, the sensor is not covered by our general warranty.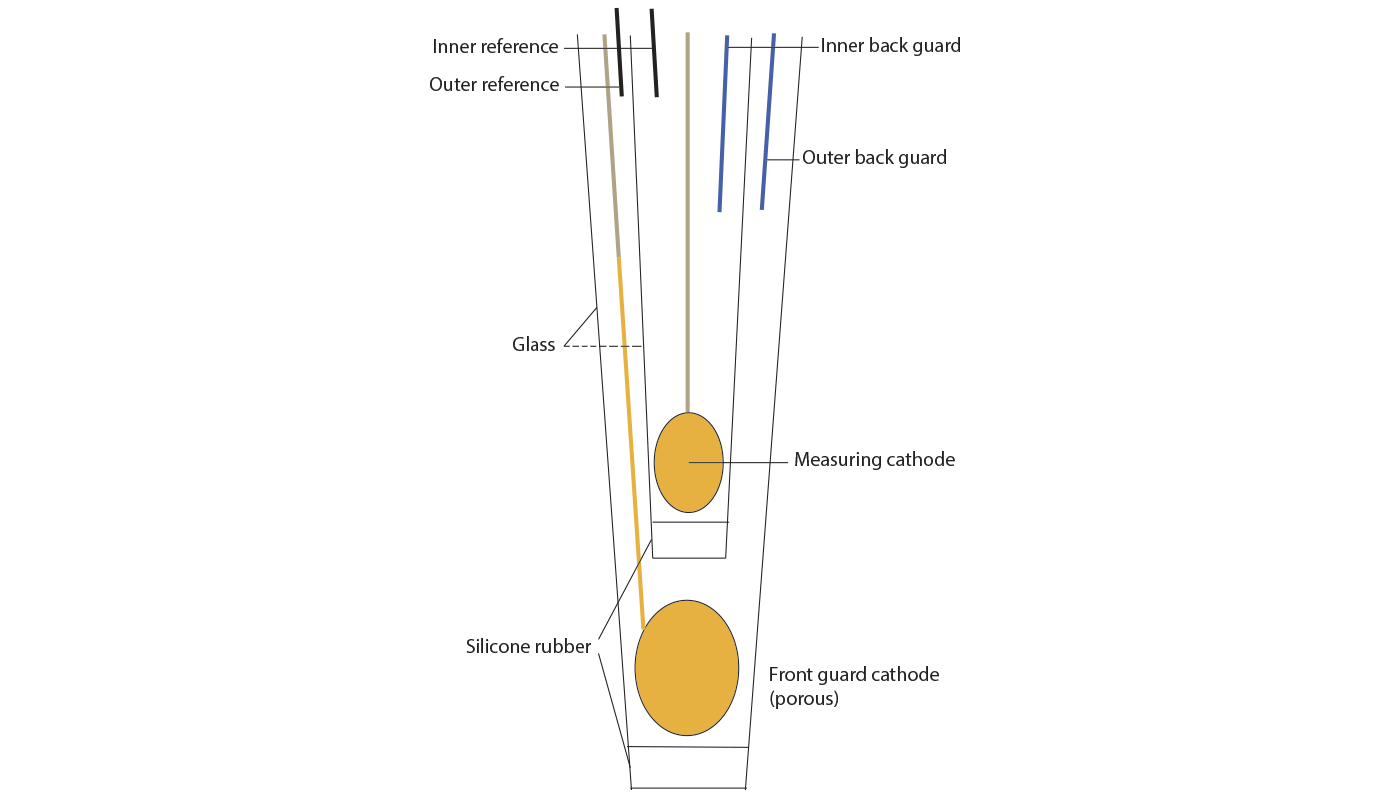 General
Cables & Connectors
Characteristics
Stirring Sensitivity & Response Time
General
Feature
Standard

Feature

Total length

Standard

150-200 mm

Feature

Diameter 20 mm from tip

Standard

<3 mm

Feature

Diameter 50 mm from tip

Standard

8 mm

Feature

Glass shaft diameter

Standard

8 mm

Feature

Plastic shaft protection diameter*

Standard

11 mm
*When mounted with in situ mini connectors, the shaft has no protection mounted, but fits directly into the in situ sensor mounts with pressure compensation. In situ sensors have a standard length of 130-160 mm.
Cables & Connectors
Item
Standard
Options
Extra price for option selection

Item

Cable

Standard

Habia

Item

Cable length

Standard

1.5-2 m

Options

0-10 m

Extra price for option selection

Yes, depends on length

Item

Connector

Standard

LEMO

Item

In situ gold pin connector

Standard

No

Options

Yes
Characteristics
Attribute
Standard

Attribute

Guaranteed lifetime

Standard

6 months - non-physical damages (internal or external) only

Attribute

Expected lifetime

Standard

>1 year

Attribute

Temperature range tip

Standard

2-50°C

Attribute

Temperature coefficient

Standard

2-3% per °C

Attribute

Range

Standard

0-saturated

Attribute

Linear range

Standard

0-saturated

Attribute

Detection limit

Standard

<10 nM

Attribute

Internal reference

Standard

Yes

Attribute

Internal guard

Standard

Yes

Attribute

Waterproof

Standard

Yes

Attribute

Spatial resolution

Standard

Equals outside tip diameter

Attribute

Signal drift

Standard

Approx. 10 % per month
Stirring Sensitivity & Response Time
Item
Stirring sensitivity
Response time (90%)

Item

STOX

Stirring sensitivity

<2 %

Response time (90%)

<20 s
Ordering information & Sizes
Ordering information & Sizes
STOX microsensor
Size and description

STOX microsensor

STOX

Size and description

90-110 µm - glass sensor

STOX microsensor

STOX-ST-1/4

Size and description

1/4'' steel tube

STOX microsensor

STOX-SL-1/4

Size and description

FT-cell 1/4'' Swagelok Tee

STOX microsensor

STOX-FT-GLASS-6

Size and description

Glass FT-cell 6 mm outer diameter

STOX microsensor

STOX-FT-GLASS-8

Size and description

Glass FT-cell 8 mm outer diameter
Related publications
Determination of ultra-low oxygen concentrations in oxygen minimum zones by the STOX sensor
Revsbech, Niels Peter et al. (2009), Limnology and Oceanography: Methods, vol. 7, 371-381
Oxygen at nanomolar levels reversibly suppresses process rates and gene expression in anammox and denitri⁠…
Dalsgaard, Tage et al. (2014), mBio, vol. 5, -
Oxygen distribution and aerobic respiration in the north and south eastern tropical Pacific oxygen minimum zones
Tiano, Laura et al. (2014), Deep-Sea Research Part I: Oceanographic Research Papers, vol. 94, 173-183
Aquatic respiration rate measurements at low oxygen concentrations
Holtappels, Moritz et al. (2014), PLoS ONE, vol. 9, -