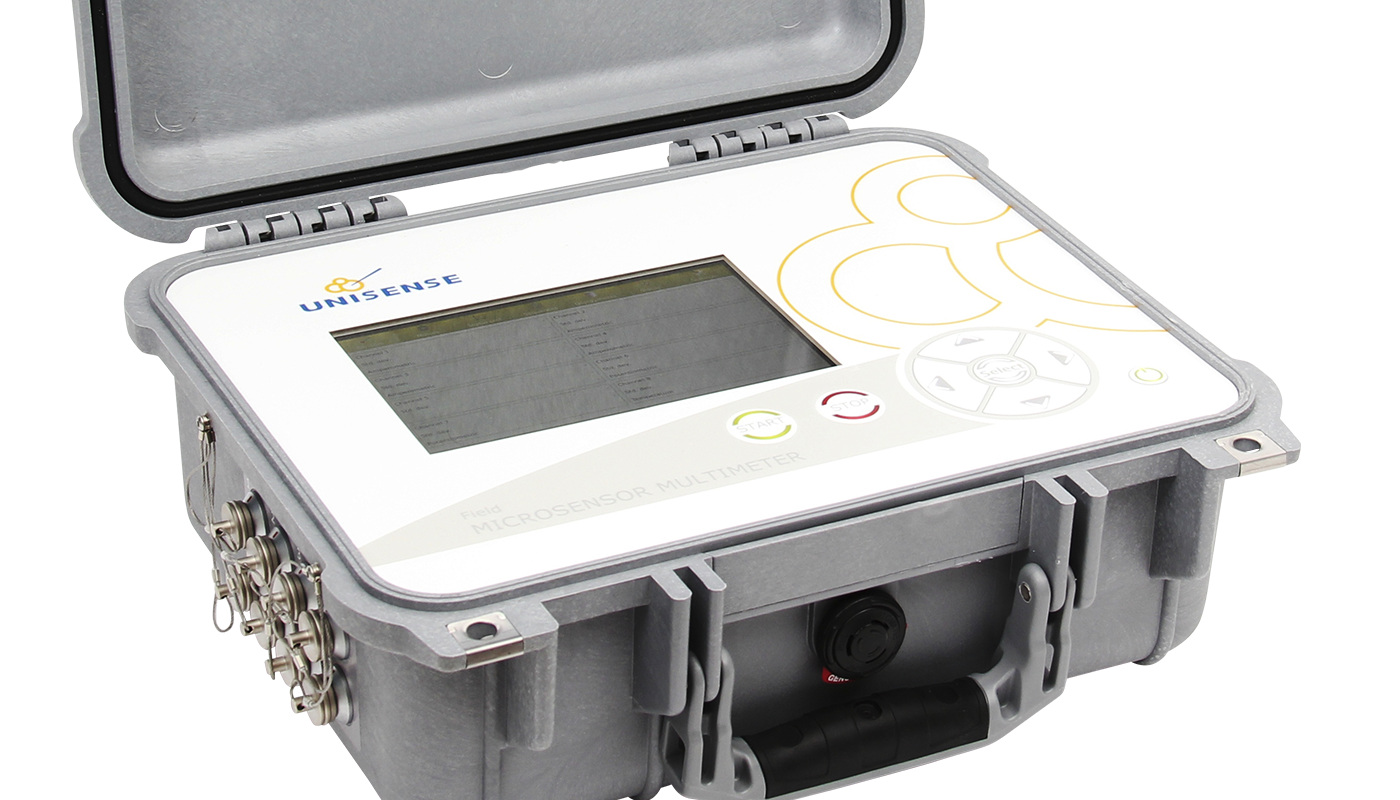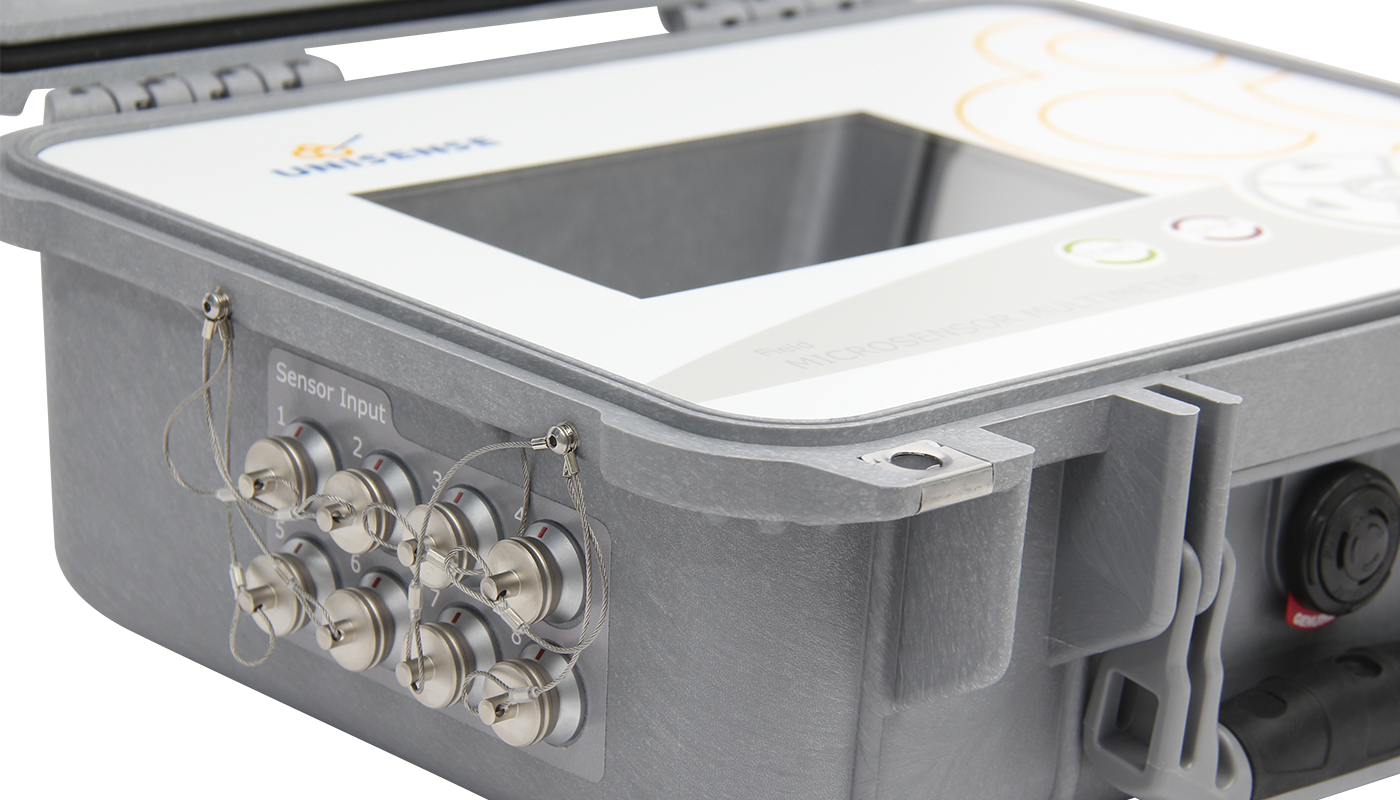 For outdoor and laboratory use
8 channels
Rechargeable 20h battery with option to add external 20h battery
Field Microsensor Multimeter
8-channel microsensor amplifier for in situ measurements
Take all the benefits from your lab system with you into the field. The Field Microsensor Multimeter is the solution for your outdoor and laboratory microsensor research. You get easy sensor connection and sensor polarization, and a water-resistant meter ready for outdoor use. Read more...
Read More
Technical Data
Interface and Software
Field Motor
Ordering Information
Manuals & Videos
FMM
Take your lab into the field
Outdoor and water-resistant system in a robust design
8 channel amplifier with plug'n'play connector
5 x pA, 2 x mV, and 1 x Temperature
5 m sensor cables
Internal rechargeable battery
Built-in datalogger
Motor control
Export of data into SensorTrace Suite for data analysis
Robust motor for automatic shallow water/wetland profiling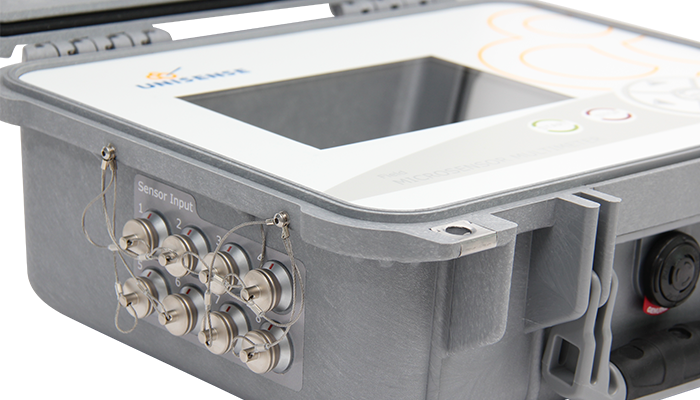 Prepare your measuring programs in the lab and calibrate on-site
You can create measuring programs and routines to download on the Field Microsensor Multimeter in the intuitive PC programming software. The built-in user interface allows you to easily calibrate the sensor on-site and select your program from the library.
With the standard configuration you get 8 channels: 5 channels for amperometric sensors, 2 channels for potentiometric sensors, and 1 channel for temperature. So you can measure multiple analytes and benefit from our wide selection of sensors, and even do replicate measurements.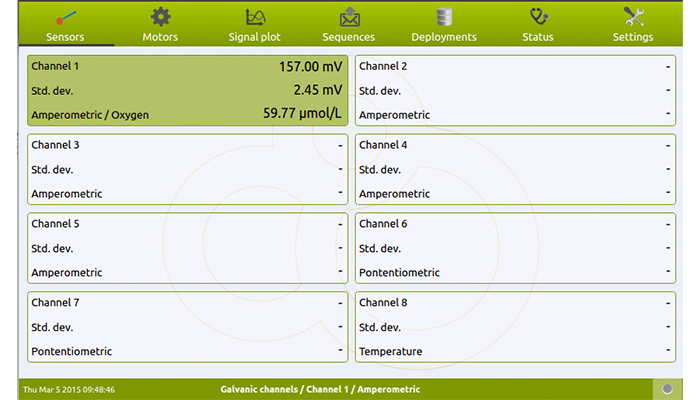 Characteristics
Input and Amplifier
Power and A/D Converter
Response and Signal
Characteristics
Attribute
Standard

Attribute

Display

Standard

Graphical 7'' LED display | 18 bit color / high contrast | 800x480 pixel

Attribute

Dimensions

Standard

350 x 300 x 148 mm (W x D x H)

Attribute

Weight

Standard

Approx. 8.5 kg (19 lbs)

Attribute

Temperature range

Standard

Operating conditions -10 to 50°C

Attribute

Warranty

Standard

1 year
Input and Amplifier
Picoampere
pH/mV
Temperature

Sensor

Picoampere

Lemo - Splash Proof (IP68)

pH/mV

Lemo - Splash Proof (IP68)

Temperature

Lemo - Splash Proof (IP68)

Reference (for mV channels)

Picoampere

Subcon plug on the cable of the measuring electrode

pH/mV

Subcon plug on the cable of the measuring electrode

Temperature

Subcon plug on the cable of the measuring electrode

Number

Picoampere

5

pH/mV

2

Temperature

1

Polarization

Picoampere

Digitally adjustable

pH/mV

N/A

Temperature

N/A

Polarization range

Picoampere

±2.5 V

pH/mV

N/A

Temperature

N/A

Input range

Picoampere

±4500 pA | ±45 nA | ±450 nA | ±4.5 µA

pH/mV

±4500 mV

Temperature

-10 to +100°C

Input impedance (mV channels)

Picoampere

N/A

pH/mV

>1013 Ohm

Temperature

>1013 Ohm
Power and A/D Converter
Feature
Standard

Feature

Power supply

Standard

Battery - internal LiON or External voltage 9V (5-28V)

Feature

Internal Battery

Standard

LiON 13 Ah, 96 Wh | Run time at 25°C approx. 20h at normal usage

Feature

External battery (optional)

Standard

LiON 13 Ah, 96 Wh | Add approx. 20h of run time at 25°C

Feature

Resolution

Standard

16 bit

Feature

Sampling frequency

Standard

10 kHz
Response and Signal
Feature
Standard

Feature

Response time (90%)

Standard

<35 msec.

Feature

Signal gain factor adjustment

Standard

1-10

Feature

Signal gain offset adjustment

Standard

±2.5 V

Feature

Control

Standard

Motors - up to 2 (z and x axis) | Field MicroOptode Meter | 3-serial RS-232/UART | I/O 4x digital 3.3V
Interface and Software
Feature
Standard

Feature

Interface

Standard

On-device control/Remote programming tool

Feature

Communication

Standard

Ethernet

Feature

Field Multimeter Programing Tool

Standard

Included

Feature

SensorTrace Suite

Standard

Optional - Logging only

Feature

Other Unisense Software

Standard

Optional: SensorTrace Profiling

Feature

Data rate

Standard

Up to 10 samples/sec.

Feature

Software data output

Standard

CSV file
Field Motor
Attribute
Standard

Attribute

Stage profiling length

Standard

200 mm

Attribute

Step resolution (uni-directional)

Standard

10 µm

Attribute

Sensor holder

Standard

Included - mount for 6 sensors

Attribute

2D profiling

Standard

Optional

Attribute

Stand for mounting

Standard

Field Stand or In Situ Stand (IS 19)

Attribute

Warranty

Standard

1 year
Ordering information
Product
Description

Product

Field Microsensor Multimeter

Description

5x pA, 2x mV and 1x Temp channel | PC Programming software

Product

Customized Field Microsensor Multimeter

Description

Customized channel configuration against a fee
Related Publications
High denitrification and anaerobic ammonium oxidation contributes to net nitrogen loss in a seagrass ecos⁠…
Garcias-Bonet, Neus et al. (2018), Biogeosciences, vol. 15, 7333-7346
Physicochemical drivers of microbial community structure in sediments of Lake Hazen, Nunavut, Canada
Ruuskanen, Matti O. et al. (2018), Frontiers in Microbiology, vol. 9, 1-16
Contemporary limnology of the rapidly changing glacierized watershed of the world's largest High Arctic lake
St. Pierre, K. A. et al. (2019), Scientific Reports, vol. 9, 1-15