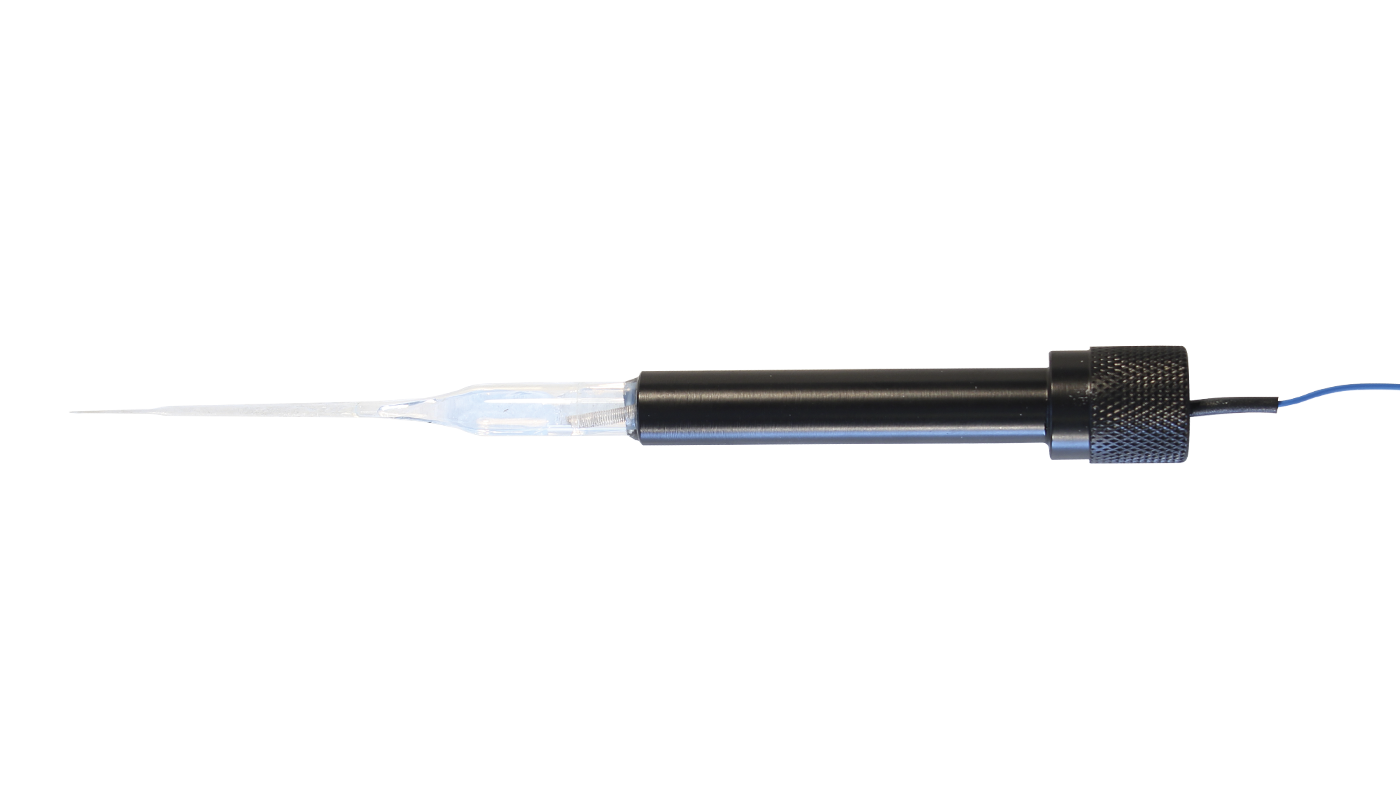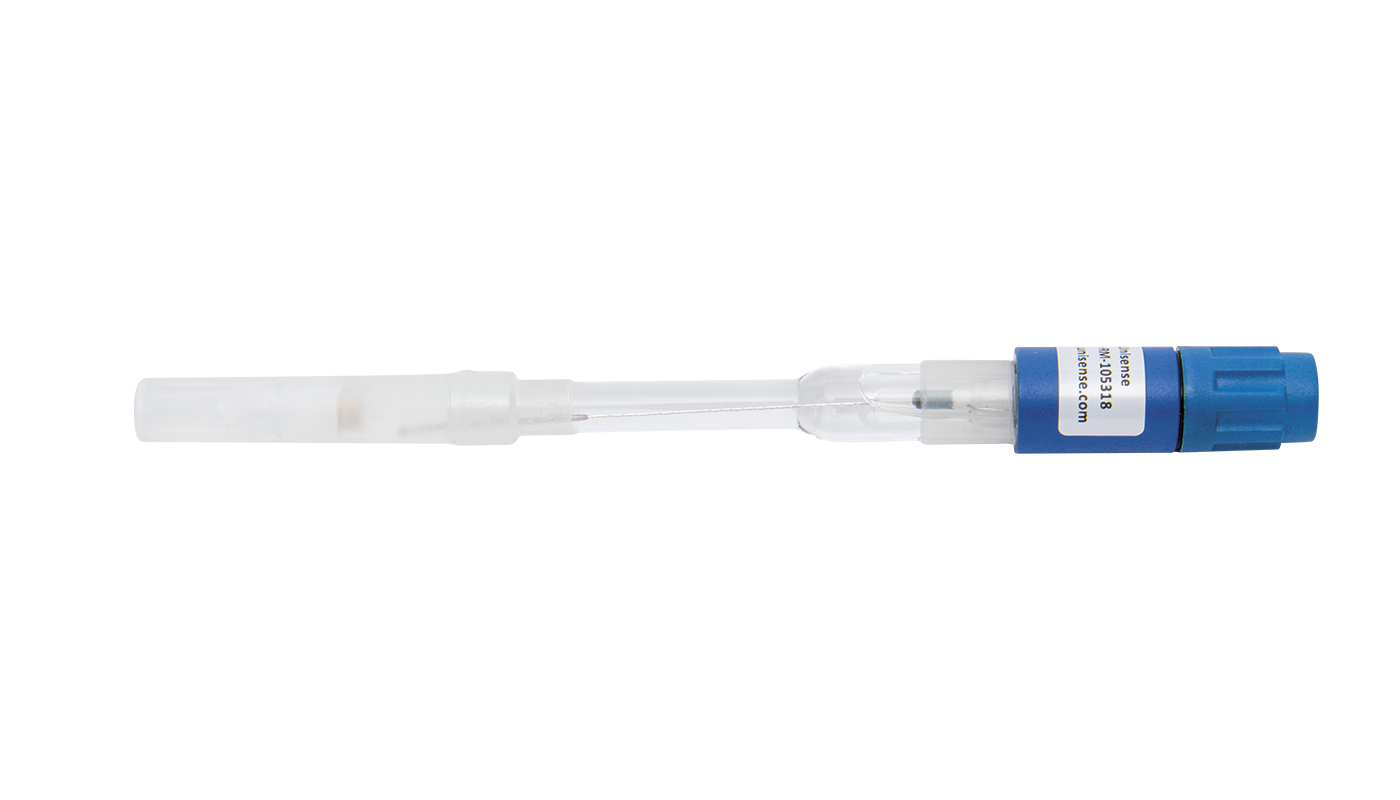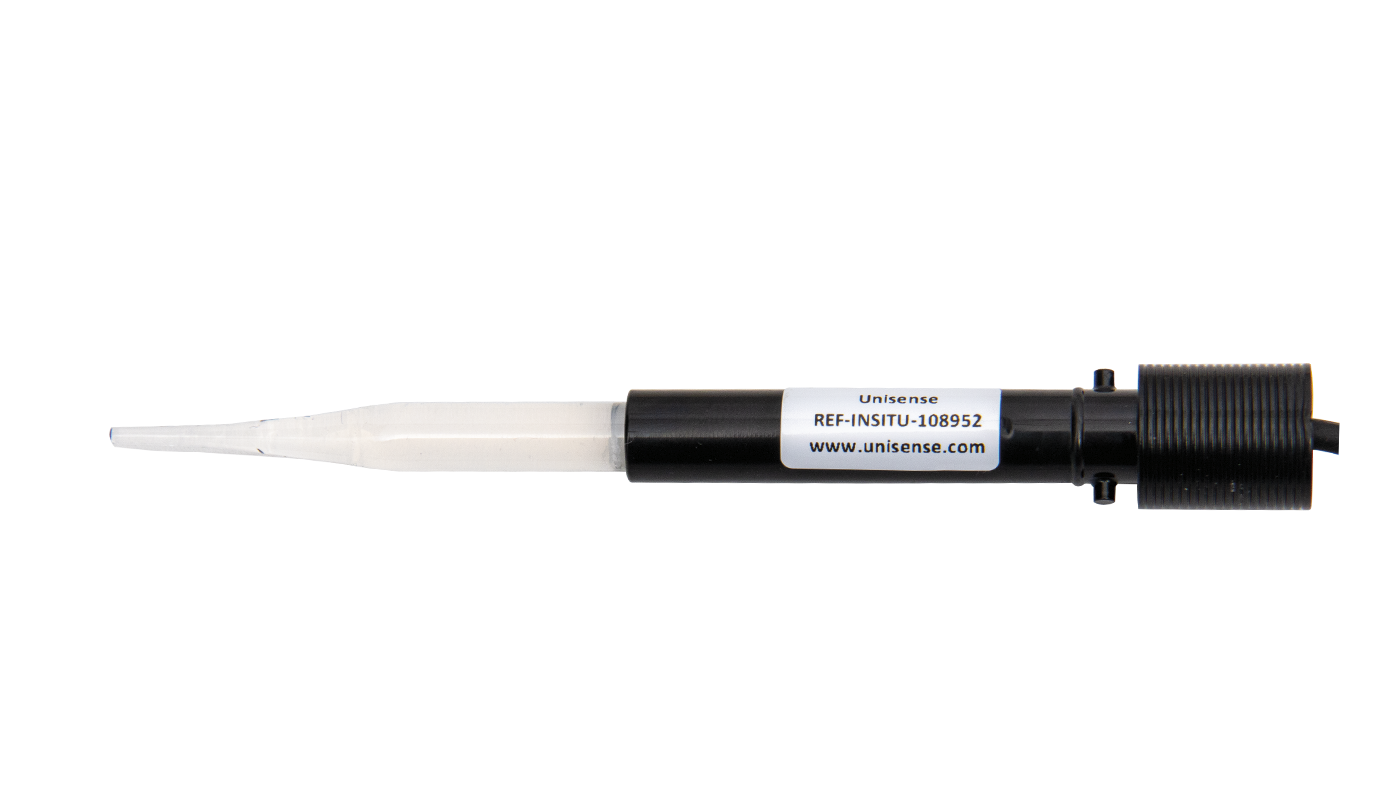 Available as microsized
For laboratory and in situ use
Reference microelectrode
Reference electrode for pH or Redox microelectrodes
Our reference electrodes are simple silver/silver-chloride open-ended electrodes designed to work with potentiometric microelectrodes, such as the pH and Redox microelectrodes. Read more...
Read More
Technical Data
Ordering Information & Sizes
Adaptations
Manuals & Videos
Reference electrode
The right choice for your application
For measurements with Reference electrodes, it is important that the measuring sensor is in fluid contact with the reference. For most purposes this can be achieved with a large macro-reference. For some applications the sample is so small, e.g. a droplet, that the reference must be as small as the measuring microelectrode.
Our micro-sized reference electrodes are glass electrodes manufactured at Unisense.
For in situ use, Unisense manufactures a pressure-compensated macro electrode.
For laboratory use, Unisense provides a macro reference electrode from Radiometer Analytical.
General
Cables & Connectors
Characteristics
General
Feature
Standard
Options
Extra price for option selection
Total length
150-200 mm
70-350 mm
20-50%
Total length REF-RM
Approx. 190 mm
Diameter 20 mm from tip
<2mm (not REF-RM)
<1 mm
10%
Diameter 50 mm from tip
8 mm
<2 mm
20%
Shaft diameter
8 mm
Shaft protection diameter*
11 mm
Can be omitted
*When mounted with in situ mini connectors, the shaft has no protection mounted, but fits directly into the in situ sensor mounts with pressure compensation. In situ sensors have a standard length of 130-160 mm.
Cables & Connectors
Item
Standard
Options
Extra price for option selection
Cable
Co-axial, 3mm
Cable length
1.5-2 m
0-20 m
Yes, depends on length
Cable length REF-RM
1.3 m
Connector
4 mm banana plug
LEMO or BNC
Connector REF-RM
4 mm banana plug
BNC
In situ gold pin connector
No
Yes
Characteristics
Attribute
Standard
Extra price for option selection
Lifetime
>1 year
Temperature range
-10-40°C
Reference type
Ag+ / AgCl
30%
Waterproof
Yes
Ordering information & Sizes
Ordering information & Sizes
Reference Electrode
Size and description
Options
Extra price for option selection
REF-RM
5 mm - robust reference electrode
REF-10
8-12 µm - microelectrode
3-5 µm | 25 µm | 50 µm
20%
REF-100
90-110 µm - microelectrode
110-400 µm
20%
REF-N
1.1 x 40 mm - needle electrode
REF-NP
1.6 x 40 mm - needle electrode for piercing
REF-ST-1/4
1/4'' steel tube
REF-SL-1/4
FT-cell 1/4'' Swagelok Tee
REF-SL-1/8
FT-cell 1/8'' Swagelok Tee
REF-PEEK-1/8
FT-cell 1/8'' PEEK Tee
REF-PEEK-1/16
FT-cell 1/16'' PEEK Tee
REF-FT-GLASS-6
Glass FT-cell 6 mm outer diameter
REF-FT-GLASS-8
Glass FT-cell 8 mm outer diameter
REF-Insitu
5 mm - in situ electrode
REF-Insitu-ST-1/4
1/4'' steel tube - in situ
REF-Insitu-SL-1/4
FT-cell 1/4'' Swagelok Tee - in situ